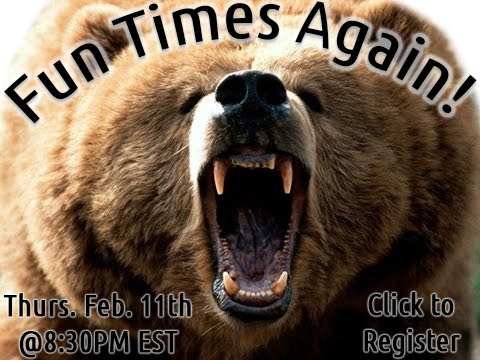 The Tipping Point
2016.01.29

2016 The First Five Days
2016.01.14

Is The Fed Going To Raise
2015.12.17

4th Seal Forecasting
Feb 07, 2:45am GMT

From Forum. Note that Frank being Belgian uses European conventions for dates so in his posts, 9/11 is November:

frank (Subscriber)
Feb 06, 2016 - 10:52pm GMT
3 hours ago
Yes it is RJ. 4th seal pages come with a 6 day chart or a combination of the 6 day (short term) and 24 day chart (long term) per market. As an exception with gold I have been including the 24 day HUI also because ever since the 9/11 low of last year there was a very important setup developing which was additional evidence that something significant was going on in the gold market. For months that low held and the HUI (and gold) went sideways basically going nowhere until last month where we got the final test of that low and following reaction. 4th seal Subscribers had to be very patient during this choppy period but as always the surprise comes when you are about to give up on your faith. Gold miners rallied 45% on average in a matter of days. We warned for it again and again. A classic Danielcode turn. When DC time and price meet a turn is almost inevitable. Some turns are subtle and hard to predict as their time cycle vibrations are deeply hidden in the charts but some of them are monumental and you can see them coming from a mile away. It seems like magic for an outsider but it isn't. If you believe in God and you come to John's tutorial with that faith and a big hunger for knowledge he will teach you how to do it. Anyone can do it. It's a matter of faith and interest. There are a gazillion guys in the world who are smarter than me but I can assure you that there is no one more amazed, interested, humbled, and touched by John's DC knowledge than I am except maybe John himself. This stuff is huge. Always remember the words of Isaac Newton at the bottom of each 4th seal page. They are equally as important and are a big part of your faith in God. There is reason why they are on every 4th seal page. Nothing is random especially here at the Danielcode.

Matthew 13
"That same day Jesus went out of the house and sat by the lake. Such large crowds gathered around him that he got into a boat and sat in it, while all the people stood on the shore. Then he told them many things in parables, saying: "A farmer went out to sow his seed. As he was scattering the seed, some fell along the path, and the birds came and ate it up. Some fell on rocky places, where it did not have much soil. It sprang up quickly, because the soil was shallow. But when the sun came up, the plants were scorched, and they withered because they had no root. Other seed fell among thorns, which grew up and choked the plants. Still other seed fell on good soil, where it produced a crop—a hundred, sixty or thirty times what was sown. Whoever has ears, let them hear."
Moderator Options: Edit Post / Delete Post

rjhawkins (Subscriber)
Feb 06, 2016 - 7:24pm GMT
7 hours ago
Hi Frank, Is the bottom chart on the 4th seal page the 24day chart? Thanks.
Forecasting GOLD
Feb 05, 1:08am GMT

In December 2010 a young Frank DB, a Belgian farmer, came to his first Danielcode Tutorial at Lake Taupo in New Zealand's North Island and brought his new and equally young wife An to say hello. He had never seen a trading chart and knew nothing about the wonderful world of Futures and Forex but he had a burning desire to learn the mysteries of the Danielcode which is so named as it is derived from the hidden time cycles recorded in the Book of Daniel preserved in the Old Testament. Frank's particular interest was in our proprietary 4th Seal method of forecasting Time and Price and he set himself to study this phenomenon with such purpose that he now runs our 4th Seal service which is a weekly service forecasting major market turns at important DC cycles. On November 9th 2015 (Frank uses the European convention for dates) he called for an important low in $HUI the unhedged Gold miners index and cited its huge correlation with Gold as signalling a major low in Gold. From Forum, here is his post today:

frank (Subscriber)
Feb 04, 2016 - 11:37pm GMT
1 hour ago
from Bloomberg:
"Biggest Mining Rally Since 2008 Propelled by Gloomier Economy"

Gee, only God could have seen this coming. In fact, He did. This is what God's Danielcode secret was revealing to us last week on the 4th seal Gold page on 1/25/16

"On 9/11 last year we called for THE low in the HUI at 101.28. On 1/19 the HUI dropped below our black line support at 101.67. The formation of the low on 9/11 last year was very significant according to DC price-time levels and came at 5th seal support. However the break of the 9/11 low on 1/19 was a one day event as the market reversed immediately back above the black line the day after. On top of that we can see that the HUI bottomed at 99.19 which is only 40 ticks away from the 4.445 extension from the 2011 high (44.5 times 10: do you see the fractal?). This is also a major price level and the market recognized it almost perfectly on a 62 cycle low in a what appears to be a test of the 9/11 low event. But wait, there is more good news. This week we included the GC3-067 charts instead of the GC3-057 charts of gold. On the 24 day chart we have a 59/44/62 cluster cycle low at the 2.445 extension from the 2011 high at 5th seal support. On the 6 day charts we have a 59/62 cycle low also at the 2.445 extension and at 5th seal support. Notice how on both charts the closing low came at the 74.2% retracement from the 2011 high to the 2008 low at 1058.1. Extreme precision on the long term charts. All of this evidence tells us that gold and miners are perhaps not only in for a swing low but maybe even for a long term low. As always follow the daily signals to get elected into the turn. Be patient. If this is the start of a new long term trend it usually comes by a surprise move when you least expect it."

"The folly of Interpreters has been, to foretell times and things, by this Prophecy, as if God designed to make them Prophets. By this rashness they have not only exposed themselves, but brought the Prophecy also into contempt. The design of God was much otherwise. He gave this and the Prophecies of the Old Testaments, not to gratify men's curiosities by enabling them to foreknow things, but that after they were fulfilled they might be interpreted by the event; and his own Providence, not the Interpreters, be then manifested thereby to the world. For the event of things predicted many ages before, will then be a convincing argument that the world is governed by providence." Sir Isaac Newton, the Father of Modern Science. Observations upon the Prophecies of Daniel, published 1733.

Bravo Frank!! It does indeed seem like magic to the great unwashed. If you would like to be part of this magic act I invite you to subscribe for any of Frank's 4th Seal analysis.
Banging The Buck
Feb 03, 8:38pm GMT

The US Dollar Index was trashed today, likely in response to Ted Cruze's victory in Iowa [Ed. Not really; just my personal bias HA!] as markets took a hatchet to this vital market. DX lost 1.8% in its biggest one day drop in seven years according to Bloomberg. Most have linked the selloff to a poor read on the services industry report but supposed correlation hasn't been persuasive in the past and doesn't appear to be the real story. Most commodities are priced in USD so a marked weakness here is a direct benefit to most commodity prices as reflected in Gold, Oil, Copper etc. For DC Tutorial graduates this was a perfect DC Hook trade with Friday's setup bar claiming the DC Black line albeit in a less than its usually precise manner and an easier clue came in the Index $DX where the false break set up perfectly. Those that follow the Danielcode have heard me comment often that "fast moves come from false breaks" and so it was today. Execution was difficult with Monday's inside bar requiring an aggressive entry on extended risk and for those who took the risk, Tuesday's close offered cold comfort. But all was revealed today and the DC Hook trade is a far better explanation of this tumultuous move.
Happy Traders
Feb 03, 3:13am GMT

From Forum:

JCN ()
Feb 03, 2016 - 3:10am GMT
1 second ago
Glad you are enjoying the DC signals guys and here's some more from the first two days of this week: AUD-JPY down 1.630 on Monday's T.03 and Blue line Sell. The size of the setup bar meant gritting your teeth and trading the inside bar from Monday as discussed with Tutorial folks. AUD-USD is down 47 ticks from Friday's close on its DC Blue line Sell signal meaning use a two bar trailing stop to try and hold this trade for longer. Recent rally was driven by speculation that Aussie Reserve Bank would not cut at its Tuesday meeting which was pretty obvious so this was a classic buy the hype and sell reality trade. All just noise really as Aussie has loads of structural weakness still. CAD-JPY was a DC Daily Sell for Tuesday and dropped 1.388. EUR-AUD was a T.03 Buy for Tuesday +211, NZD-JPY was a T.03 Sell down 1.060 from Friday's close but not giving us a profitable close to exit on yet but there may be more downside here as Dairy prices were again hit hard at Fonterra's Monday auction; USD-CAD elected its Buy signal but backed off on the close whilst USD-JPY had a "time turn" Sell for tutorial folks which also required aggressive trading of Monday's inside bar due to the extended risk inherent in Friday's huge setup bar.
Even better results came from the Futures side where AP the Aussie S&P 200 index shed 60 ticks in response to Tuesday's T.03 Sell signal [Ed now down 177 ticks and worth $4450 or theabouts after Wednesday's day session Down Under]; Crude Oil is now down 334 ticks for a $3340 trade on Monday's inside bar Daily Sell signal; S&P EMini gave up 34.50 as foreshadowed by Tuesday's Daily Sell signal whilst NASDAQ was down 103.5 in response to Tuesday's T.03 Sell signal. We had a nice 106 tick Buy in Gold on Monday's DC Daily Buy signal and that market is now facing a test at its DC Blue line and Coffee tipped into our coffers with a 165 tick jump today on its DC Daily Buy signal. Lots of trading and some nice trades to start the week.
Moderator Options: Edit Post / Delete Post

HonestJohn (Subscriber)
Feb 02, 2016 - 3:01pm GMT
12 hours ago
Third time is the charm.
Moderator Options: Edit Post / Delete Post

briancatton (Subscriber)
Feb 02, 2016 - 6:46am GMT
20 hours ago
Long usdcad at 1.3930 woke up just now (London time) and we are 100 pips higher.The power of the blacklines is amazing.
Moderator Options: Edit Post / Delete Post
Short And Sweet
Jan 26, 4:49am GMT

Last week was shortened by the MLK Memorial Day holiday on Monday and then we always need a full day of trading after a market holiday to reset the charts so Tuesday was a pass as well leaving just 3 trading days to make a mark. And what a mark we made, this time mainly in Forex. For Wednesday and Thursday we had 13 trade signals in Forex, 12 of which were elected and all made money. Some made nice money. To which we add Buy signals in Crude Oil, NASDAQ, Dow, S&P and DAX posted on Wednesday evening for action on Thursday and Friday. The short week was fine for us!!