And something a bit slower like Copper. Here's the recent Futures chart;
<![if !vml]>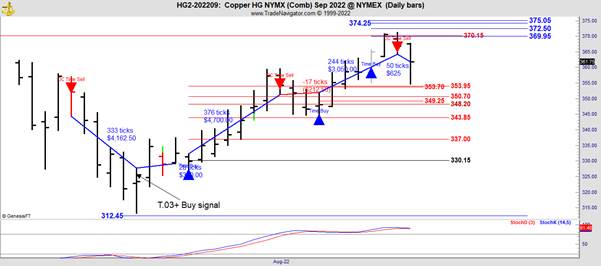 <![endif]>
If a career as a trader is on your wish list now or in the future, or you simply want to start an alternate profit stream, this is the opportunity to grab.
Hi John, I'm really enjoying my trading. This is going to be my year where I reach the point that I could leave my day job if I wished. I probably won't because it's enjoyable, but it's a nice position to be in. And it's all thanks to you. I thoroughly appreciate the time you have put in, the patience to answer my questions and knowledge you have imparted. The DC is truly amazing.
Just checking in after 3 short trading weeks and must say absolutely delighted with the results trading the rise and rise and fall of SB, ZS and ZW. You have shared with me the success system that does not fail... only I can fail the system! Shall continue trading the same markets till equity allows me to trade KC. So true when you say..."I don't know what the market will do tomorrow and I don't need to know!" For the first time in my life, income is pouring in 24 hours a day. Mick D. QLD
New 2023 Syllabus
We teach two separate methods of trading: Price and Time.
Price:
You may know something about this, but the unique Danielcode ratios that create our proprietary support and resistance levels distinguish the DC method of trading Price against all others. You will see potential turning points others do not see and cannot know. This is the start of the Danielcode difference.
Time:
Here, we take the shortest DC time cycles, again proprietary and known to a very few, and we create market turns simply from these time series alone. It has been a revelation that we have been teaching quietly for four two years now.
Take a look at some of the client testimonials to see what we have achieved.
From Beginner to Expert:
The Danielcode Tutorial will take you from the simplest of chart functions, such as what the charts show and which markets to select, all the way to the intricacies of long term forecasting, and everything in between. I have stated earlier that two of our very best traders came to me for a DC Tutorial when they had never seen a financial markets chart. With this tutorial, I am combining live teaching with some elements of the video tutorials, so you will have access to four different videos that will renew and reinforce the learning. A great deal of material is involved, so by having the video backups, you can continually review each section of your new knowledge and skills.
Market Forecasting The 4th Seal:
Nothing you have seen in markets will prepare you for the 4th Seal.
The 4th Seal forecasts and identifies future turning points in markets and gives both the Time and the Price at which these turns will occur. We can use The 4th Seal on 6, 12, and 24-day charts and often on daily charts to know these vital inflection points days, weeks, and often months in advance.
As with everything in the Danielcode, I created this remarkable forecasting tool in response to the absolute vacuum of existing forecasting tools. I have no hesitation in saying that The 4th Seal is the most accurate forecasting tool ever invented. And that's a huge statement. The mysterious 4th and 5th Seals are likely the forecasting tools of the century and have now given rise to their similar application on daily charts called "Moonbeams." In my 30 years in the markets, I have never seen anything comparable or even close. It truly is another miracle from the Danielcode. Here's what previous DC Tutorial graduates have to say.
If you dive into the wonders of Time and 4th degree you are going to discover miracles beyond your wildest aspirations. The Danielcode is truly the DNA of markets which means that every move of the market on every time frame is ruled by that DNA. If we would truly and completely know and understand that DNA we could literally predict every next move of any market. Time and The 4th Seal are the beginning of knowledge of that DNA. Probably just the tip of the iceberg. We have a long road ahead. Welcome to the wonders of the Danielcode. FDB, Belgium
Expect a life-changing experience.
The Danielcode is dedicated to the proposition that we need to know beforehand and with a high level of probability where markets will turn. These tutorials will teach you the tools that identify the best trading probabilities, and, as many DC members have affirmed, you will never be the same.
I will impart to you the greatest gift that is in my power to bestow – financial freedom.
Once you learn to trade the Danielcode way with the tools I provide at tutorials, you will be on your way to that nirvana. Trade when you like and make as much money as you need.
Begin with our standard T.03 and PLUS signals which have been returning averages of around 7-8% per month for the past 7 years. Many of our members already use them, and you can too. When you have mastered the Danielcode you will make much more.
Our suite of trading techniques and programs will take you from the basics of chart reading through a series of trade programs ranging from 1-3 day trades to always-in-the-market auto trades, for which you will create orders, place the orders, manage your stops, and exit automatically
For those who like a more relaxed style of trading, learn an entirely new swing trading program.
A Danielcode Tutorial will take you from the basics of trading Futures and Forex to the heights of sophistication and, more importantly, great success.
John
Thank you for your time last Monday. As discussed following a stern lecture to myself to follow the system here are my results,
Start 6/5/2018, Account value $4477.
Markets traded ZC, ZW, ZS, NG (positions added as equity allowed)
As of 8/26/2018          Account value $19882.50
        Open Equity $19925.00
         Balance  $39807.50
8.89 X in 3 months
Following the Daniel Code System the way you taught me TREND, SIGNAL, STOPS
THANK YOU, REGARDS, MIKE MM MN USA
My #1 Priority for you.
Thirty years ago, before I completed the discovery of the Danielcode Time and Price sequences, I was very much like many of you, an enthusiastic trader fully immersed in the lure of markets and with a good background in trading. I had read all the books, immersed myself in a multi-year search for Gann's missing link, counted "waves" and almost everything else you could think of. My trading was good but not good enough, and I was constantly surprised at what markets did.
Being an Attorney, I believed everything I needed could be learned from books and lectures. That's the way we are taught, and it's part of our core beliefs. With this in mind, I bought a veritable library of books, took online courses, then ventured overseas for many one and two-day tutorials from leading lights in the Futures teaching industry. They were great fun, the people I met were enjoyable, and our mentors appeared decent folks. The examples always worked, and I came home brimming with confidence at all the new material I had been taught, sure that now I was equipped to take my trading to the next level. It didn't work.
I tried several times more, at great expense, but the results were always the same. The examples I saw at these events did not translate to real time success back home in my trading room. By this, I do not mean to disparage any of those teachers. They were undoubtedly people of knowledge, but it didn't work for me, and the deflation and loneliness of dealing with these letdowns are remembered. No doubt, many of you have had similar experiences. At our Los Angeles Tutorial a few years ago, I had a charming lady from Portland who was quite nervous about tutorials. She told me she had spent $40k doing courses with many of the big names and still couldn't trade profitably. She is a part-time trader with a full-time job. Three months after her DC Tutorial she told me her trading was great for the first time, and she was talking her daughter into learning to trade with the Danielcode.
I can do this for you too.
And I promise you it is huge. Really huge!!! You have no idea how huge. Really! The DC is the biggest discovery in many generations and puts Needham on the same level as Archimedes, Newton, and Columbus ... And that is a big statement. I just hope it's not an understatement." FDB-Member and Tutorial Graduate's post in Forum.
What you will need:
To best follow the tutorial material and run the GMAJ and other templates, you will need Genesis Trade Navigator charting software and data, and the Danielcode Library from Genesis. Contact Terry at support@thedanielcode.com to arrange your free trial if necessary. If you choose to contact Trade Navigator direct, ensure that you tell them you are a DC member. New DC Library and new upgraded DC template, together with the new TIME package and tools, will be provided in the Tutorial.
All the DC studies and programs are explained in simple language, and for those of you who prefer other software packages, you will be easily able to adapt and transfer the DC tools to your preferred platform. But you will not need any computer skills to trade the Danielcode.
An investment in your future.
Tutorial Fees: My fee for the Danielcode Tutorial is US $7500 as it has been since 2010
To make that burden easier we have decided to offer our DC Price course and our DC Time trading course as separate modules for those who wish to take this course. New fee structure is:
<![if !supportLists]>• <![endif]>New Inflation Busting Offer for Tutorial Students
<![if !supportLists]>• <![endif]>Learn DC PRICE trading. New fee is US $4500 with terms available on $2500 down
<![if !supportLists]>• <![endif]>Learn DC TIME trading. New fee is US $4500 with terms available on $2500 down
<![if !supportLists]>• <![endif]>OR do the full Tutorial which combines the learning of trading TIME & PRICE. Fee is unchanged at US $7500 with terms available on $4500 down
<![if !supportLists]>• <![endif]>Email jneedham@thedanielcode.com to make your reservation
<![if !supportLists]>• <![endif]>If you have done a DC trading Tutorial previously get right up to date with new teaching and DC TIME trading. Fee US $4500 with terms available
I invoice you a few weeks before the tutorials. You can pay by wire, bank transfer, credit card, or PayPal, whichever is convenient. If you require some accommodation in paying fees, I will be happy to help.
If you are new to trading I will show you how. If you are already a good trader, I will make you better!
Before you go I would like to share with you the journeys of two other Danielcode students.
An update on my Danielcode journey.  A little over a year ago I completed a DC Video tutorial.  An amazing experience in and of itself. Four-2 hour sessions were followed up with four-1 hour sessions where John reviewed my paper trading.
I have to say my "live" paper trading got off to a rough start. John pointed out that I was a very nervous trader… grabbing profits too quickly and switching between markets if I experienced a losing trade in one of them.  I was making money but not nearly what I should have been.  I was obviously anxious to start trading with real money but John's words to me were "I can't tell you what to do but you'll lose your ass the way you're trading".  When the inventor of the DC gives you this message you'd be a fool to ignore it!  He told me to paper trade Natural Gas and Gold (I also added Soybeans) for 1 year and that we'd review the paper trades before any real money was risked. (Trade Navigator has a replay feature which allows you to progress the chart one day at Time.  It's as close to live trading as you can get… as long as you are honest with yourself and only trade what is in front of you and don't go back and change your trades once you see how the trade progressed).
Each market took about a week to work through the entire 2016 calendar year.  My results were amazing and after reviewing the spreadsheets with John I pronounced myself ready to move to real money.  As I made the transition I realized that even though I had cemented the rules I wasn't ready from a mental standpoint.  When I was paper trading, it only took a few minutes to get the bad taste of a loss out of my mouth.  Obviously, that isn't the case when live trading!  I am very conservative by nature and was trying to avoid any type of draw down to my account.  Any draw down just wrecked my confidence.  Even though I had proven to myself the type of returns that are possible trading time, I was just too fearful of making a mistake to just follow the rules.
All the while, John continued to work with me.  It was very comforting to know I could reach out to John at any time if I had questions.  Bottom line…John wasn't going to let me fail.  He continued to have 1 on 1's with me until I finally gained the experience and confidence I needed to be successful.  John also devised a way to hold me accountable.  Since early October I have recorded my live trading on a spreadsheet and sent the spreadsheet to John for review.  This has forced me to strictly adhere to the rules John teaches or he'll kick my butt.  Funny thing happened once I got my emotions out of the way and just followed the rules… my trading became nearly as good as it was with my paper trading!
None of this would have been possible if not for John continuing to work with me.  He is so generous with his time.  Once I completed my tutorial I assumed that would be the end of my access to John.  Not so.  He continues to be personally interested in my success and I can set up a meeting with him at any time.  Tell me where else you can get that! 
The Danielcode has changed my life.  I highly recommend the video tutorial.  I can't tell you many times I've gone back and watched the recorded sessions.  Do yourself a favor and signup for a tutorial.  The Danielcode is for real and John Needham is a treasure in my book. ML USA
And this from one of my favorites.
After 'discovering' the DC website, I found myself eagerly awaiting the fortnightly webinars hosted by John Needham.  I hoped that somehow I could learn enough from watching and listening to become an effective trader, but somehow I could not put it all together.
I was reluctant to put myself in a position where I felt foolish not knowing much about futures trading.  This is a story of procrastination.  Instead of making a clear decision based on what I saw during the many webinars and by reading the articles posted on the DC website, I stumbled along until finally I accepted the challenge and signed up for the online DC Tutorial.
I knew that it would be a confronting experience as I know little about the markets or trading... but JCN is an amazing teacher and has seemingly unlimited patience combined with a keenness and eagerness and a real passion to share the DC.  JCN 's enthusiasm is infectious... his knowledge base remarkable and his willingness to share this knowledge is a truly amazing gift.
The DC takes the 'guess work' out of trading.  Instead of feeling baffled and bewildered the DC offers a proven guidance system to follow with precision tools to navigate the terrain.
It is all too easy to dismiss the DC as being wildly implausible, to be doubtful or dubious and even consider the claims to be far-fetched or unbelievable, but such is not the case.  Amazing, fantastic, remarkable, impressive and extraordinary not to mention phenomenal are the words I now use to describe the DC.
Doing the DC online Tutorial is without a doubt the most exciting and exhilarating thing that I have done in quite some time.  Every day I am constantly amazed at the precision, the perfection and wonderment of it all.  Thank you.  MB Qld
I am looking forward to hearing from you and beginning the business of making money.
<![if !vml]>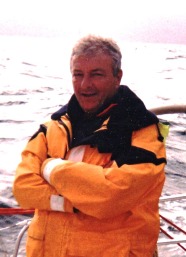 <![endif]>
John Needham
John Needham is an Australian Attorney who has written extensively on financial markets, Gold, Equities, Forex, Commodities, and trading strategies for Financial Sense, Traders Journal, and Forex Journal. See the Danielcode website for published articles.